This Oven Roasted Summer Gnocchi is the perfect easy weeknight dinner. The gnocchi is crisp on the outside and soft on the inside and the vegetables are roasted to perfection drawing out the sweetness of the dish.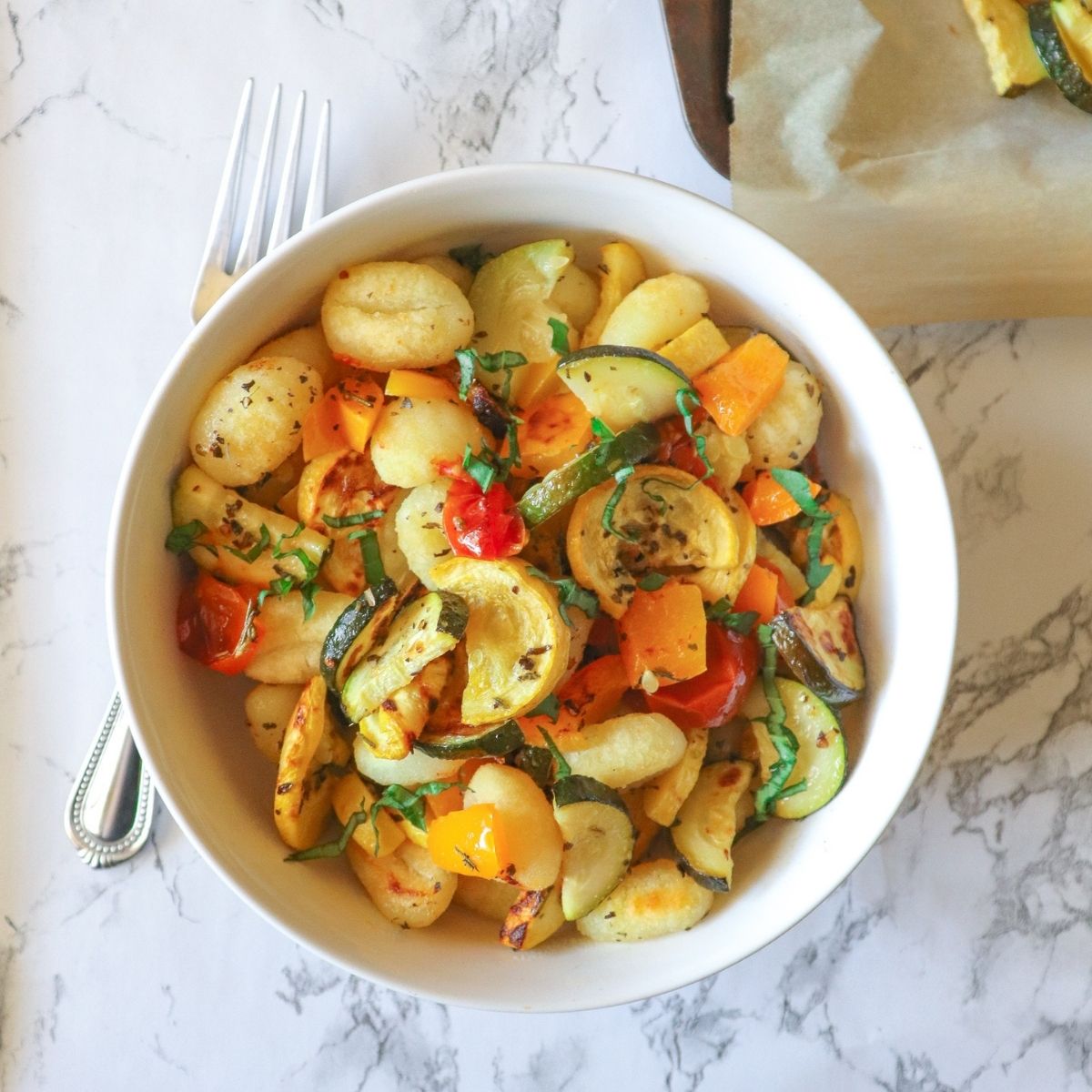 This Oven Roasted Summer Gnocchi is what dreams are made of. Growing up, my mom never prepared gnocchi so I did not find out about it until I was an adult. My goodness, when I tried gnocchi for the first time, my taste buds exploded. They tasted just like southern dumplings! I immediately begin trying gnocchi with everything. In my process of discovery, I found that my favorite way to eat gnocchi is oven-roasted. When you roast gnocchi in the oven, it takes on this crispy outer exterior but manages to stay soft on the inside. It is the perfect bite.
For some more fun gnocchi recipes, check out this Vegan Gnocchi Potato Salad or this Creamy Tomato Basil Gnocchi
Jump to:
Ingredients
The ingredients in this recipe are easy to find and super budget friendly! Each serving costs under $2!
Shelf Stable Gnocchi
Zucchini
Squash
Heirloom tomatoes
Yellow Bell Pepper
Orange Bell Pepper
Basil
Rosemary
Oregano
Instructions
This Oven Roasted Summer Gnocchi couldn't be easier to make. It is a sheet pan meal so everything bakes on the same sheet pan in the oven for the same amount of time. Sheet pan meals are one of my favorites because it means easy cleanup. Anytime that I don't have to spend doing dishes is a yes for me!
To start this recipe, you are going to slice your vegetables. I used summer squash, zucchini, yellow and orange bell pepper, and mini heirloom tomatoes.
After you slice your vegetables, you are going add them to a large bowl and then add your prepackaged gnocchi. You will drizzle the gnocchi with olive oil and sprinkle with your seasonings. I like to use salt, pepper, fresh basil, fresh rosemary, and fresh oregano.
After you toss everything together, you spread it out on a large cookie sheet and bake in the oven at 425 for 30 minutes.
Hint: To keep this vegan, make sure to use shelf stable gnocchi like this brand from DeLallo. These are normally vegan. I've found that most of the gnocchi in the refrigerated section contains eggs.
Substitutions:
If you have specific dietary needs, check out some of these substitutions below!
Low Sodium - Leave out the extra salt when seasoning, and season with extra basil and rosemary!
Keto - to make this recipe keto-friendly, use cauliflower gnocchi! You can roast it the same way.
Gluten-Free - use cauliflower gnocchi to make this gluten-free.
Variations
Fancy taking this recipe for a spin but what to remix it?
Spicy - Add some crushed red peppers to your seasoning mix to give this a little kick!
Deluxe - Drizzle some pesto on top to take this to the next level!
Kid-friendly - If your child is texture adverse, boil the gnocchi instead of roasting it. It will match the texture of the vegetables.
Check out another fun gnocchi recipe here or try out this other fun pasta recipe, Green Pasta Sauce!
Equipment
Equipment can have a big impact on how a recipe turns out. These are the baking sheets that I use and I always make sure to line with parchment paper for an easy cleanup!
Storage
This recipe works well for leftovers the next day. I would be hesitant to suggest meal prepping it as the vegetables can get soggy after a few days but eating for lunch the next day is okay!
These ingredients don't stand up well to freezing.
Top Tip
Make sure to double check the back of the gnocchi box to make sure they are vegan. Most shelf-stable gnocchi is but always double check. For ultimate freshness, use vegetables from your garden or get them at the farmers market!
Oven Roasted Summer Gnocchi
This Oven Roasted Summer Gnocchi is the perfect easy weeknight dinner. The gnocchi is crisp on the outside and soft on the inside and the vegetables are roasted to perfection drawing out the sweetness of the dish.
Ingredients
1

box shelf stable gnocchi

1

zucchini diced

1

squash diced

1

cup

heirloom tomatoes halved

1

yellow bell pepper diced

1

orange bell pepper diced

1

teaspoon

basil

1

teaspoon

rosemary

1

teaspoon

oregano

1

teaspoon

salt

½

teaspoon

pepper

¼

cup

olive oil
Instructions
Preheat oven to 425 degrees fahrenheit. Dice the squash, zucchini, tomatoes, and bell peppers and add to a bowl. Add gnocchi to the bowl with the vegetables and drizzle with ¼ cup olive oil. Stir everything to combine and add to a lined baking sheet and sprinkle with your herbs. Roast in the oven for 30 minutes stirring once at the 15-minute mark.
Notes
Feel free to use any vegetables that you like, this can be adjusted for the season depending on what is available where you live. 
Nutrition
Serving:
1
serving
Calories:
341
kcal
Carbohydrates:
48.5
g
Protein:
6.9
g
Fat:
14.1
g
Saturated Fat:
1.9
g
Sodium:
1260
mg
Fiber:
6.4
g
Sugar:
7.2
g
Food Safety
Cook to a minimum temperature of 165 °F (74 °C)
Do not use the same utensils on cooked food, that previously touched raw meat
Wash hands after touching raw meat
Don't leave food sitting out at room temperature for extended periods
Never leave cooking food unattended
Use oils with high smoking point to avoid harmful compounds
Always have good ventilation when using a gas stove